Vacchetta Tote Bag · Natural
Regular price

€ 470
Sale price
Tax included. Shipping calculated at checkout.
Pickup currently unavailable
Stitching Method
A. Hand-Sewn Saddle Stitch
This method of crafting is undeniably the best, most elegant, and strongest method of stitching using the Traditional Saddle Stitch without a sewing machine. If a thread breaks on one side of a saddle stitch the thread on the opposite side holds the piece intact.

B. Machine Lock-Stitch
This method is equally elegant, however it may not be as strong as traditional hand stitching. If a thread breaks in a backstitch, the entire row of stitches will unravel.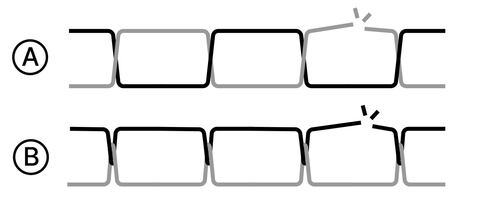 The Hallmarks of Quality
— Full-grain, vegetable-tanned Italian Vacchetta leather from the family-run tannery "Conceria Puccini Attilio" in San Miniato, Tuscany.
— LWG Silver Certified, ensuring the leather is tanned responsibly against measures like traceability, resource consumption, and effluent treatment.
Shipping & Returns
— 2-3 business days for in-stock items shipment
— For pre-order / made-to-order items, check lead times on homepage
Estimated shipping costs will be indicated when your shopping cart is ready to check out.
You have 14 days to make your return request online following your order date. After requesting your return, you have 7 days to mail the items back to us.
Items must be returned in new, unworn, and unwashed condition without any scuffs, scratches, stains, tears, hair, perfume or other alterations. If your item includes special tags or cardboard backing, these also should be intact.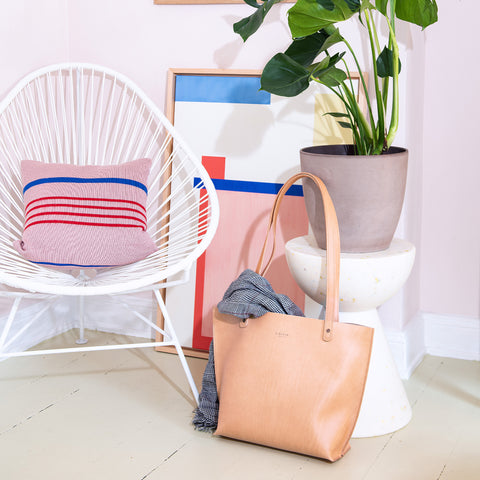 What your tote bag says about you, is up to you.
You design interiors. Okay, you at least decorated your apartment. You understand the relevance of the Memphis movement. And at this point, you've explained the impact of the Eames Lounge Chair more times than you can count. Timeless and Minimalist Design of any kind is very much your cup of tea, which is why this Tote Bag, with its understated accents, is right up your alley. Finish your corned fig, pear and gorgonzola toasted sandwich and grab that geometric tote — you've got to go find a place to read the Sight Unseen newsletter.
What's in it: Vintage magazines. A Hay Design water bottle. A notebook (with dot-grid paper, of course). The keys to your MINI. And some fancy pencils you paid way too much money for.

Features
The Vacchetta Tote Bag features a minimalistic design and offers a spacious main compartment for your everyday essentials to keep them in-line. It fits a 13"" Macbook or an iPad Pro 12.9"" without a hitch. The smaller inside pocket keeps your cards, documents and pens safe.
— 100 % Ethically Handmade
— Full-Grain Tuscan Vacchetta Leather
— Hand-hammered copper hardware

— Hand-stitched with braided waxed quality thread
— Hand-burnished edges
— Dimensions: w = 44 cm, h = 31,5 cm, d = 13 cm
— Interior pocket (w = 25 cm x h = 20 cm)
— Two handles, 80 cm long
Designed and Handmade in Hamburg, Germany