Leather Care
We want to help you enjoy our leathergoods as much as possible. That is why we have created this guide for the care of our products.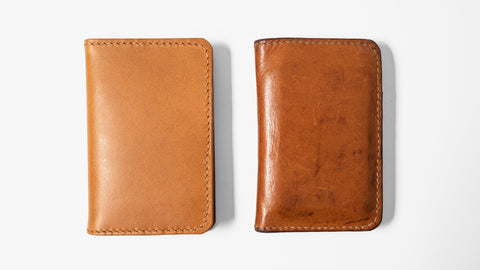 The perfect Care
Less but Better
ELBHAVN leather products are made from full-grain, vegetable-tanned leather hides and require little care thanks to the high quality. The leather rarely needs to be re-greased. Our leather darkens irregularly on contact with sunlight and moisture and develops a real patina over time. The surface seals on its own and creates a natural surface protection.
Through daily use, the leather is thereby automatically oiled by the hands and requires no further care beyond that.
Patina: Ageing with Beauty
Our leather is 100% vegetable tanned leather from Italy and it develops a natural patina over time. This is an essential part of the natural aging process that makes the leather product even more beautiful. With the patina, the unmistakable sign of quality, the product gets its unique character and tells a very personal story. The ability to age is a unique trademark of high quality leather. Scratches or stains are part of the process and will not bother you after a short time. This natural aging makes uncoated leather very durable and easy to handle in the long run.
Repair
We want to help you enjoy ELBHAVN leather products as much as possible. If your product needs repair, please email us at care@elbhavn.com with photos and a description of the problem. If possible, please also include the original order number so we can easily track the order.
Each request will be handled and evaluated individually. If the product qualifies for repair, we can repair it upon presentation of proof of purchase. Repairs can take up to 3-4 weeks, not including shipping time.